How To Keep Pests Out Of Your Christmas Décor In Hattiesburg
December 15, 2021
Holidays are happier in Hattiesburg without pests. When it is time to bring out the ornaments, making sure to leave unwanted creepy crawlies behind can be the best way to stay merry and bright. Contact Holifield Pest Management to learn how to keep pests out of your Christmas décor in Hattiesburg this season.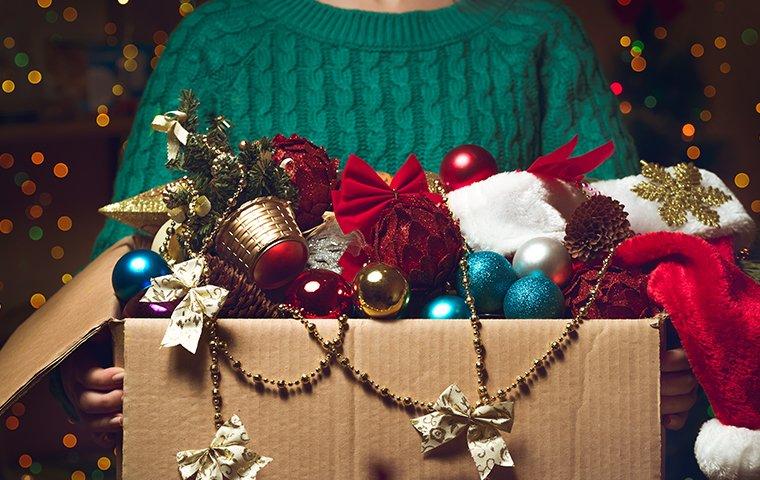 It's The Most Wonderful Time Of The Year
Christmas comes but once a year, so why not make the most of this fun time? The yuletide season is a special time, especially in southern Mississippi. Folks are getting in a festive mood and decorating homes, yards, and businesses accordingly. Boxes, bins, and tubs full of tree trimmings and decorations are brought out to deck the halls, and that's precisely where trouble could arise.
Pests Who Like To Stow Away In Holiday Decorations
Décor goes back into attics, basements, garages, and sheds once the holidays are over, and that's when undesirable pests can sneak in, become comfy, and start reproducing over the next several months. If left unchecked, these nasty pests may have created quite a mess by the next decorating season.
Clothes Moths: These little moths are tan and rarely seen because they like dark conditions. These flying pests can cause extensive damage to fibers derived from animals: silk, mohair, fur, leather, and wool. Grandma's hand-knit Christmas tree skirt may be in danger if it contains any animal fibers.

Spiders: These eight-legged arachnids can make their way into unprotected and uncovered collections of holiday decorations. These pests like to be free to catch prey without being disturbed, so reindeer, stockings, and artificial Christmas trees can make a great home base.

Rodents: Mice, rats, squirrels, and even raccoons may attempt to put down roots in seasonal décor. Cardboard can be a big attractant, and as this material is frequently used to store Christmas items, it can lure these furry pests. Many rodents will chew up cardboard and make nests in some of the materials found inside the boxes; this, in turn, can ruin favorite items.
Dealing With Pests During Christmas In Hattiesburg
Want to know how to keep pests out of your Christmas décor in Hattiesburg? Try some of these prevention methods that actually work in southern Mississippi:
Annually Inspect: When pulling out all of the garland and icicles, carefully check everything for any traces of pests. Look for clothes moth eggs and larvae and spiders and their egg sacs. Inspect twinkle lights for rodent chewing marks and keep those eyes peeled for any mice or rat droppings. If there is a positive sign of any pests, have items treated professionally or dispose of them altogether.

Move Décor Out: Avoid possible household infestations by storing decorations outside of the home. Consider using a storage unit, outbuilding, or detached garage.

Opt For Tubs: Forgo bags and cardboard that do not deter pests and may even attract them. Many retailers now sell strong, long-lasting bins and tubs that can be used in place of old-school storage methods. These containers with lids that snap in place can prevent pests from invading decorations.
Call The Pros For Pest Advice
When the time comes to rock around the Christmas tree, don't let any unwanted critters spoil holiday fun. There's no need to stress about how to keep pests out of your Christmas décor in Hattiesburg; just call Holifield Pest Management. We offer plans that keep pests out of the home during the holidays and throughout the entire year. Our family-owned and operated business is here to answer questions and provide assistance with residential pest control needs.