How To Spot Termite Problems Around Your Maywood Property 
April 15, 2021
We'd love to think that we could recognize a household pest infestation if it happens, but are you quite so sure you'd recognize the signs and symptoms of termites? After all, they don't call these pests the 'silent killers' for nothing!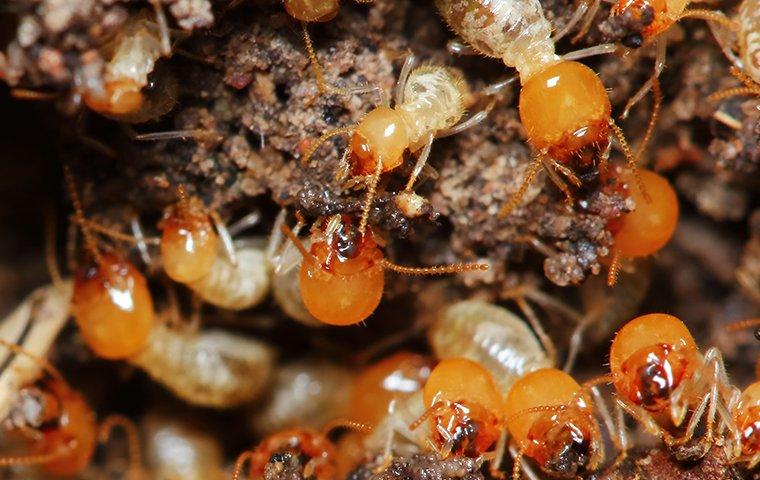 Termites aren't necessarily physically dangerous or deadly pests, especially when it comes to people and pets. In fact, these tiny pests can do little more than pinch with their oversized mandibles. The best way to identify a termite in your home is to look for these physical characteristics:
¼ inch insects that vaguely resemble ants in form

Large yellow heads on brown or cream-colored bodies

Flying alates (mature termites) flying about the home or lawn
The real danger of termites in Maywood lies not in their physical menace, but in their property damage. Termites break down wood and cellulose in order to survive, meaning that the very construction of your home is a Thanksgiving dinner to these pests. Wooden support beams, wall studs, ceiling rafters, and other important structures are all objects that can be hollowed out by hungry termite colonies. What's worse, these bugs cause a minimum of five billion dollars a year in U.S. property damage. So just how can you spot the signs and symptoms of these creatures before it's too late? Holifield Pest Management can help.
The Three Biggest Signs Of Silent Termite Activity
Termites may not make much of a racket, but the damages they cause around your home will certainly get your attention – and fast. Here are three of the most telling symptoms of a termite infestation in Maywood homes:
Tight-fitting doors and windows that don't quite open or close correctly

Soft clicking sounds coming from walls and ceilings

Frass piles (or very fine sawdust heaps) accumulating around wooden objects
If you haven't spotted any of the above in your home yet, you probably aren't facing a severe termite infestation. However, you could still be hosting or encouraging termite colonies to root around the lawn, much to your chagrin. If you are serious about mitigating potential termite infestations this spring, try using some of the tips listed here below:
Remove as much soil to wood contact around the home as possible. Mulching should be replaced with rocky or wood-free options, such as pea stone or river rock. Rubbing mulching, such as shredded tire rubber may also act as a great alternative.

Remove as much moisture as possible from the inside of the home, relying on dehumidifiers and desiccant bags as the need arises.

Even if there are no signs of an infestation, get professional protection through a licensed pest control company such as Holifield Pest Management.

To get a fast and no-obligation inspection at no additional cost to you, reach out to the team at Holifield Pest Management right away.
Don't Waste Time – Have Holifield Pest Management In Mind!
If you do see the telling signs of termites around your property, there's no need to panic. DIY (do it yourself) home remedies and over the counter solutions may seem appealing at first, but these alternatives may end up harming you rather than helping. Don't waste your precious time and money on temporary fixes that won't address your deeply rooted problem.

Instead, contact the professional team at Holifield Pest Management to begin the process of assessing, treating, and healing your Maywood property. At Holifield Pest Management, you aren't just another client – you're a part of our family. Connect with us via phone, online contact form, or an in-person visit to get started on a plan that's right for you.