Bee, Wasp & Yellow Jacket Control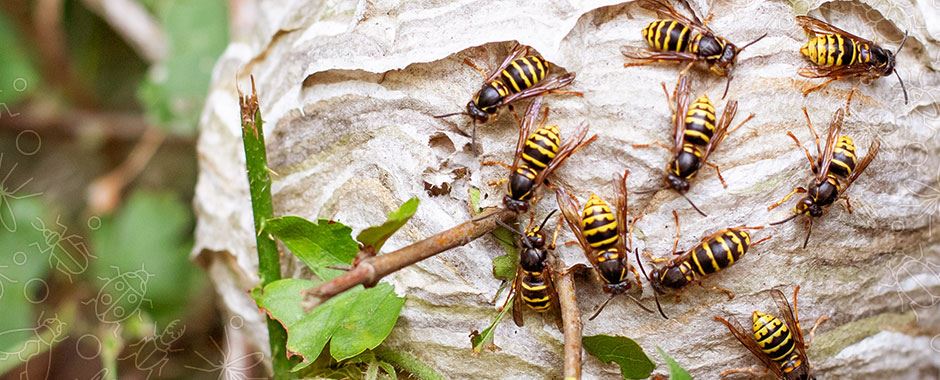 Bee, Wasp, & Yellow Jacket Control in Laurel
Protecting You from Stinging Insects in Jones County
While bees, wasps, and yellow jackets serve an important purpose in our ecosystem, these insects can also be a huge nuisance. Do not let these pesky creatures prevent you from enjoying your outdoor spaces! Holifield Pest Management is here to help you with your pest problems. We offer comprehensive bee, wasp, and yellow jacket control in south Mississippi. We will help you safely remove these insects from your home. Rely on the highly trained experts at Holifield Pest Management for your pest problems today!
Avoid the Sting of Bee, Wasp, or Yellow Jacket Infestations
Bees, wasps, and yellow jackets generally do not set out to hurt you. They are important pollinators who are often just looking for food in your yard. However, we understand that these stinging insects can be an unwelcome presence — especially in large amounts. In order for our team to be able to help you with your bee, wasp, or yellow jacket problem, we need to know what you are dealing with first.
Take a look at the descriptions below to help identify what kind of pest you are dealing with:
Bees: Bees can range in size, depending on their species, but they are usually easy to identify due to their round, fuzzy bodies that sport a dark yellow color. Their legs are relatively flat and wide compared to other stinging insects.
Wasps: Wasps have longer and thinner bodies than bees. Their bodies are also smooth, and their legs are more rounded and less flat than bees.
Yellow jackets: Yellow jackets have a smooth, long body like wasps but have a brighter yellow color. Their wings are also larger and longer than either bees or wasps.
Once our team has determined what kind of insect infestation you are facing, we will jump into action. We take a customized approach to your specific situation, tailoring our treatments to ensure that they are both effective and safe to be used around your home.
Because bees, wasps, and yellow jackets are stinging insects, it is important to take a cautious approach to handling these infestations. We do not recommend that you try to tackle a bee hive or wasp nest on your own — it can lead to painful consequences! This can also be particularly dangerous for those with allergies. Instead of risking it with commercially available sprays or powders, let us do the hard work for you. We will ensure that the nests and its inhabitants are safely removed from your property.
Are you struggling with bee, wasp, or yellow jacket issues? Do not wait to give us a call at (601) 228-5344 or contact us online today!